See these articles for more information on the project!
December 10, 2019. Timing is Money for Dairy Project.
November 6, 2019. Sustainable Dairy: When Enough is Enough
July 6, 2019. If Genetics Pan Out, Will Producers Pay Up?
May 1, 2019. Variation the Spice of Life for Genome Project
March 4, 2019. Big Data a Big Deal for Genome Research
January 31, 2019. Denmark Data a Boon for Canadian cows
December 1, 2018. Variation Makes all the Difference for Researchers
October 31, 2018. Lost in Translation. Dealing with Data Diversity
August 30, 2018. Genetic Mutations: Menacing or Misunderstood?
July 31, 2018. Going Global Makes World of Difference for Dairy Research
June 4, 2018. Greenbacks for a Greener Planet: Will Producers Buy In?
May 2, 2108. Error of Emission? GE3LS Research Finds Dairy Disconnect
March 1, 2018. Conference Over Down Under, But Benefits Live On
January 31, 2018. Dairy Researchers Reading Clues and Making News
November 30, 2017. Connecting the Genetic Dots Critical for Dairy Project
October 31, 2017. Animal Welfare and Dairy Genomics: Attitude is Everything
September 3, 2017. If Genomics Pan Out, Will Farmers Buy In?
August 1, 2017. Dairy Genome Project Made to Measure
July 1, 2017. Progressive Dairyman - en francais. La génomique et l'efficacité alimentaire : une étude locale
June 9, 2017. Check out this article in Wired Magazine: Canada is Using Genetics to Make Cows Less Gassy
May 31, 2017. Dairy Researchers "Making Hay" with Milk Spectral Data
April 3, 2017. Dairy Genome Researchers: Working Together Sets Them Apart
March 1, 2017. Dairy Researchers Drowning in Data...in a Good Way
February 1, 2017. Finding their Whey: Dairy Researchers Gain Scottish Support
December 29, 2016. This article in the Western Producer looks at the commercial dairy farm in Alberta that is partnering with the project to collect high quality data on feed intake of lactating cows!!
November 30, 2016. Dairy Genome Research Seeks Success with Sequencing
October 31, 2016. Research Meets Reality for Genome Alberta Dairy Project
August 2, 2016. Q & A Carried the Day for Dairy Cattle Genome Project
June 1, 2016. Genome Alberta Milks Hi-Tech Tools to Breed Better Bovines
March 31, 2016. Methane Emission Genome Project Measures Up "Down Under"
February 28, 2016. Feed Frenzy - Genome Alberta Dairy Project Breeds Excitement
February 1, 2016. Burps & Bovines - Dairy Genomics Project Cuts Feed Costs, Emissions
July 22, 2015. New funding to increase feed efficiency and reduce methane emissions in Canada's dairy industry
---
Genomics on the Hill 2017
On February 6, 2017 Dr. Filippo Miglior joined a group of prestigious researchers on Parliament Hill in Ottawa to showcase their projects and illustrate how they are using genomics to address important issues in Canada related to climate change. Dr. Miglior's poster (find here) showed how this project is using genomics to reduce the environmental footprint and increase the productivity of Canada's dairy industry.
August 2016. A BIG CONGRATULATIONS to Filippo Miglior on his most recent award from the Canadian Society of Animal Science (CSAS) for Technical Innovation in Enhancing Production of Safe Affordable Food for 2016. This was awarded at the 2016 Joint Annual Meeting (JAM) in Salt Lake City, Utah, July 19-23. For more information, see here!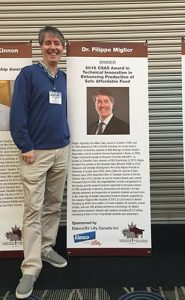 The 7th Annual Livestock Gentec Conference, October 18 and 19, 2016 in Edmonton, AB. This year's conference included beef and dairy topics. Filippo Miglior gave a presentation on the project. See here for more details on the conference.
EAAP Meeting in Belfast. August 29 - September 2, 2106. Filippo Miglior gave a presentation on the project, entitled "An international initiative to decrease the environmental footprint of dairy cattle using genomics". In addition, a presentation was given on the work Filippo's group is doing with ICAR to standardize data collection and data analysis for feed efficiency and methane emissions. This work will ensure that data coming from the EDGP has maximum value.